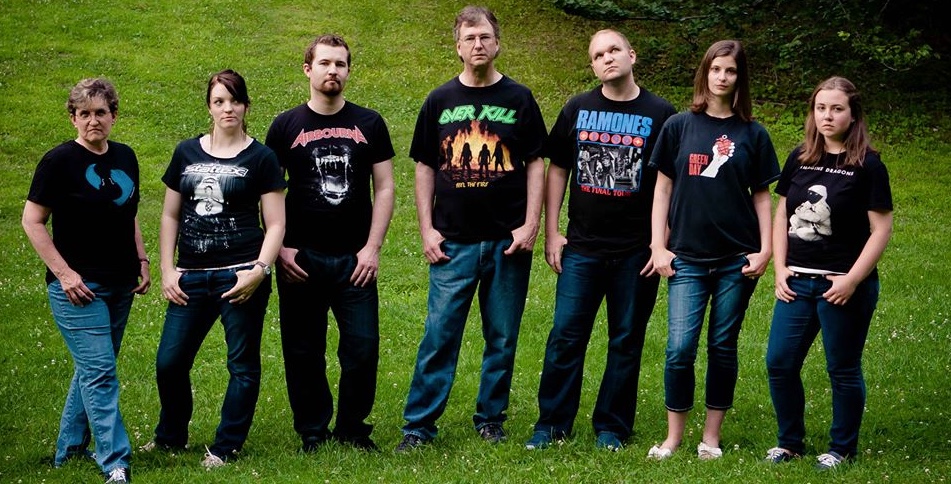 BIO
Griffin hails from Vernon, CT. He grew up in a family where rock 'n' roll was a way of life. His dad brought him to see his first concert (The Ramones) at the age of 5--granted, that was at a theme park. But by the age of 11, attending live concerts was a way of life, beginning with the J. Geils Band. Soon it was "Weird Al" Yankovic, then 3 Doors Down, then Disturbed, Metallica, and Overkill. The pattern was established. Griffin grew to love ALL the rock music his dad listened to--heavy metal, punk, hair metal, thrash...whatever was the fastest/loudest music on the planet! It was never about fashion, theatrics, explosions, lyrics or anything else. It was about the music--complex, hard rockin' music!
Self-taught on all instruments, Griffin got his first guitar at age 14. The only instruction he received was from the guy who sold him that guitar at the local Guitar Center. Three lessons...that's it. Within a few months he was playing songs and life would never be the same! Next challenge--bass guitar (a "piece of cake" after playing guitar for a year!)
Drums? Griffin actually learned to play the drums "in his head" as he practiced for one year WITHOUT a drum set! He remembers, "One time as my family took a five-hour road trip to visit relatives for the holidays. I listened to the first five Slayer albums and practiced drumming--every hit on each snare, tom, bass drum and cymbal--as I lay in the backseat listening to the songs!" This was a daily occurrence for him that year. Finally, at Christmas, he received his first drum set and "Voila!" He set it up, sat down, and immediately played along to his favorite songs at time (e.g., "Holiday" - Green Day). A month later, he started laying down tracks for his own replication album, starting with songs like Green Day's "Hitchin' a Ride," playing all instruments (guitar, bass, keyboards, drums and vocals, too.) And his one-man band was born!
Now jump to the present: Welcome to
this
show. For the past 10 years, Griffin has been working on this new rock appreciation show--
Rock 'n' Poll: From AC to ZZ -- 50 Bands, 40 Years, 1 Musician
. It is a salute to the best hard & fast rock of the past four decades, beginning with Black Sabbath and Alice Cooper in the early '70s. This unique show features 2-minute segments of the best of these era's heavy rock songs, blended seamlessly together into medleys by era--all performed live by one musician--Griffin Buckley (with the assistance of his own professionally recorded backing tracks). NO LOOP PEDALS HERE. He vows that "no two shows will ever be the same!" as each performance will feature one or more new/different songs from all previous live performances!
One final unique aspect of Rock 'n' Poll... Through the wonders of modern technology, Griffin will invite audience members to participate in the show by choosing the bands and songs that they want to hear, making it a truly interactive experience for all. Come celebrate with Griffin as he honors the best rock 'n' roll bands of the past 40+ years.